President Donald Trump on Thursday said that he is "surprised at how badly" negotiations have gone between the United Kingdom and the European Union over Brexit, BBC News reports.
Alongside Irish Prime Minister Leo Varadkar in the Oval Office, Trump declared that Brexit is "actually tearing a lot of countries apart".
"I also knew at the time that I lived in a country where, if I tried to be myself at the time, I would have ended up breaking laws", he said. "I think what we offer is certainty that even though there may be changes in government, even though we may go through different economic cycles of recession or growth, that is a certainty and I think that gives investors or potential investors that certainty you need if you're making the..."
Asked by a reporter if he believes there should be a second public referendum on Brexit in Britain, Trump replied he does not think that would be possible and it would be "unfair to the people who won".
But he was a gracious host at the annual St Patrick's week breakfast and he thanked Mr Varadkar, one of the world's few openly gay leaders, for visiting and "honouring us with your presence".
"I will be coming at some point this year", he said.
"It wasn't that I was a supporter (Leave), I predicted that it was going to happen", he said.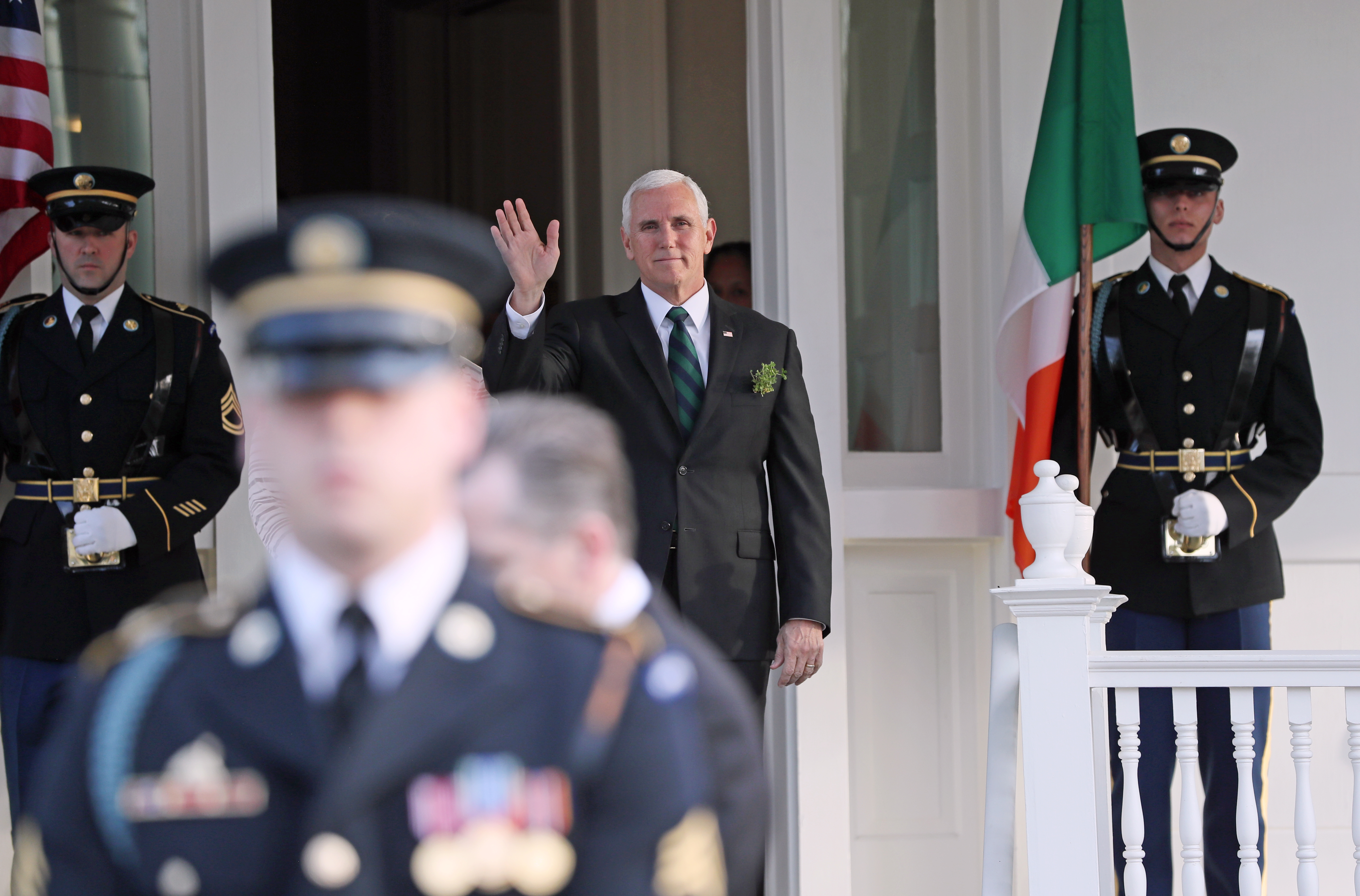 US Vice President Mike Pence waves towards Taoiseach Leo Varadkar
The most concerning element for Ireland, Varadkar said, is that Brexit should not cause any problems in Northern Ireland, which voted to stay in the EU.
"I'm not going to comment on Brexit".
He said it is the UK's decision and the most important thing for Ireland is to avoid a hard border and protect the Northern Ireland peace process.
"On (EU) proposals around digital tax, we didn't support them and they have largely been parked", Mr Varadkar added. "But I think it could've been negotiated in a different manner, frankly", he said.
Pence glossed over the Brexit disagreement as he welcomed Varadkar for the breakfast, and grew nostalgic as he recounted his grandfather's emigration from Ireland and his own affection for the country.
The breakfast came after a meeting between Pence and the prime minister previous year, where Varadkar "raised LGBT+ rights and equality issues", the UK's Independent reported.
At the traditional shamrock presentation at the White House on Thursday evening, Mr Varadkar praised Mr Trump's ambitions to "make America Great Again".