A US government plane has arrived in Texas to transport the body of former President George H.W. Bush to Washington for a state funeral.
The nation's 41st president died Friday at his home in Houston at 94.
Some of the agents will also act as honorary pallbearers in Texas at the funeral home and Ellington Field, where Bush will begin his final flight back to Washington, DC.
Former President George H.W. Bush's service dog has honored his master with his own tribute in front of the late leader's flag-draped casket.
"Mission complete", Jim McGrath, the Bush spokesman who shared a photo of the service dog's mournful stance on Sunday, wrote on Twitter. "Thank you for your service, Mr. President".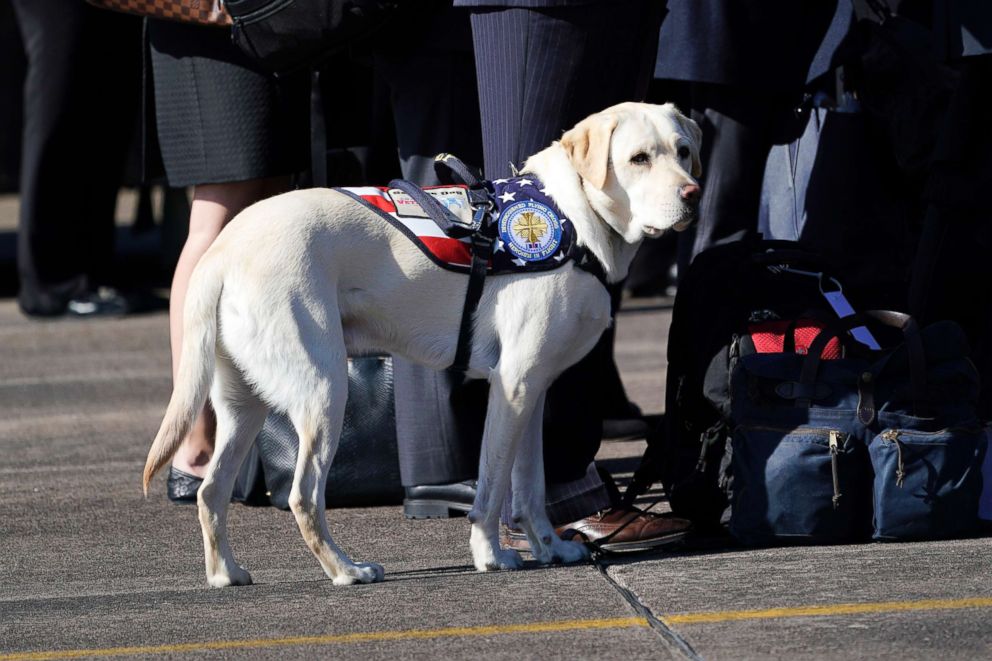 David J. Phillip Pool AP
VetDogs says Sully is named after former airline pilot Chesley "Sully" Sullenberger III, who is known for landing a damaged passenger jet on the Hudson River in 2009. He frequently used a wheelchair toward the end of his life, and Sully provided assistance with daily life.
A highly trained dog, Sully can perform a number of commands, including opening doors and fetching items such as the phone when it rings. America's VetDogs said the Labrador would join the Walter Reed General Hospital in Bethesda, Maryland, where he would assist with "physical and occupational therapy to wounded soldiers and active duty personnel during their journey to recovery".
Sully was presented to President Bush in June 2018, with Bush tweeting about the lab and thanking America's VetDogs for training him.
Millie was famously referenced during the 1992 presidential campaign, when Bush said, of Bill Clinton and Al Gore, "My dog Millie knows more about foreign affairs than these two bozos".
President Bush had been receiving treatment for a form of Parkinson's disease and had been admitted to hospital with a blood infection in April.