China has told developing nations there would be no victor in a global trade war.
He said the fact that South Africa is part of the Brics bloc gives it access to funding.
"We have signed several agreements and memorandums of understanding that are meant to further deepen our relations, including investment commitments to the value of $14 billion", Ramaphosa said, standing beside Xi.
Chinese President Xi Jinping said there would be no victor in a global trade war, urging fellow developing powers on Wednesday to reject unilateralism in the wake of tariff threats by US President Donald Trump.
"The concern that South Africa has with the protectionist policies by President Trump at this stage, is that it is playing havoc with the local market".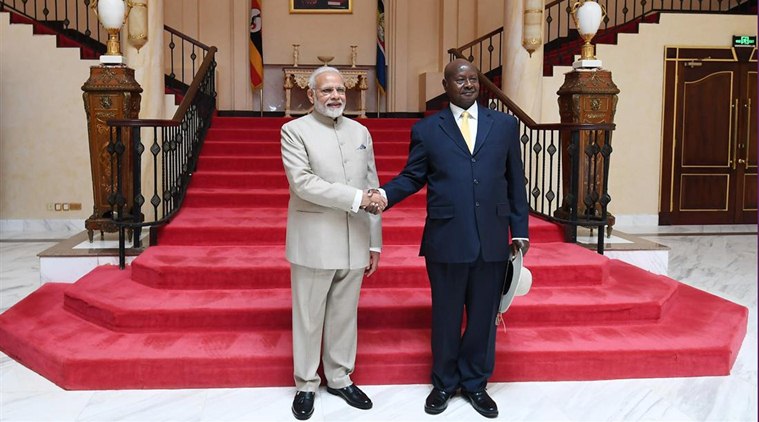 Prime Minister Narendra Modi with Uganda President Museveni
South African President Cyril Ramaphosa echoed his sentiments. He cited the country's ranking at 21 on the World Bank's Doing Business 2018 report and Transparency International's Corruption Perception Index 2016, on which the UAE is ranked as the 24th least corrupt out of 176 assessed economies, as potential reasons.
The 10th annual Brics summit will get underway in Johannesburg on Wednesday.
Sreeram Chaulia, of the Jindal School of International Affairs outside Delhi, told AFP that BRICS leaders "concur that the U.S. has unleashed punitive trade wars that are hurting all the BRICS members".
China is now the single greatest investing country to the continent and with its trade war with the United States having taken effect it was expected that most of the Asian country's investment may be for South Africa's earth metals or other products that were hit by hefty tariffs by the US.
Rwanda signed loan agreements worth more than $300 million with China and India to fund roads and irrigation, officials said, as leaders from the two Asian powers made their first visits to the East African nation. The summit runs through Friday with various heads of BRICS attending. This was in sharp contrast to the $60-billion outward investment by South Africa to Brics countries. Turkey's president, Recep Tayyip Erdogan, has also been invited.